MEMORIAL PRINTS
---
Artist Jim Davis has in recent years (2016-17) been honored by the Florida Fire Chiefs' Association (FFCA) to help in designing and painting a Florida Firefighter Memorial Lithograph. The artist was personally motivated to be a part of this project not only because it pays tributes to the LODD of firefighters, forestry, and EMS/paramedics, but because he had taught or trained with several of these fallen heroes.
This project eventually became two similar lithographs (a portrait and a landscape). The landscape print has the 184 LODD names with their corresponding year arranged chronologically in the background.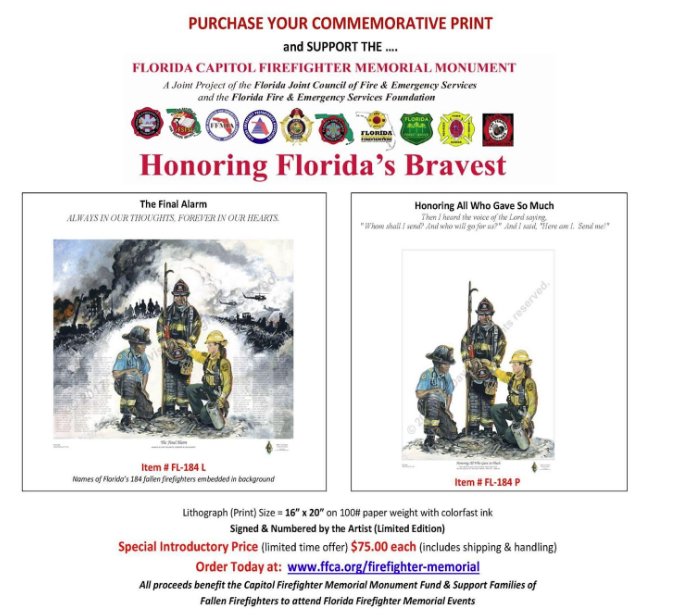 A bronze memorial of this print, by renowned artist Michael Jernigan, is being skillfully crafted and is scheduled to be erected on the grounds of the Florida Capitol in Tallahassee. Also, Jernigan worked with Jim Davis in providing several designs for the selection process. This selection was made by the Florida Joint Council of Fire & Emergency Services in conjunction with the Florida Fire & Emergency Services Foundation.  It will become a lasting tribute to remind all of us of the sacrifices made by these fallen heroes.
Show your support and help us honor the LODD by purchasing one of these commemorative prints.
The proceeds will help support this memorial monument and to fund travel for families of fallen firefighters to attend memorial events. Later this print will be used for charitable, fund raising, and promotional events.
How can I obtain one of these commemorative prints that helps support the Firefighter Memorial Monument?  Go to https://www.ffca.org/firefighter-memorial-tallahassee.  Please share this important message and a special thanks to those who have already stepped up in support and those who are about to!
The Two Memorial Print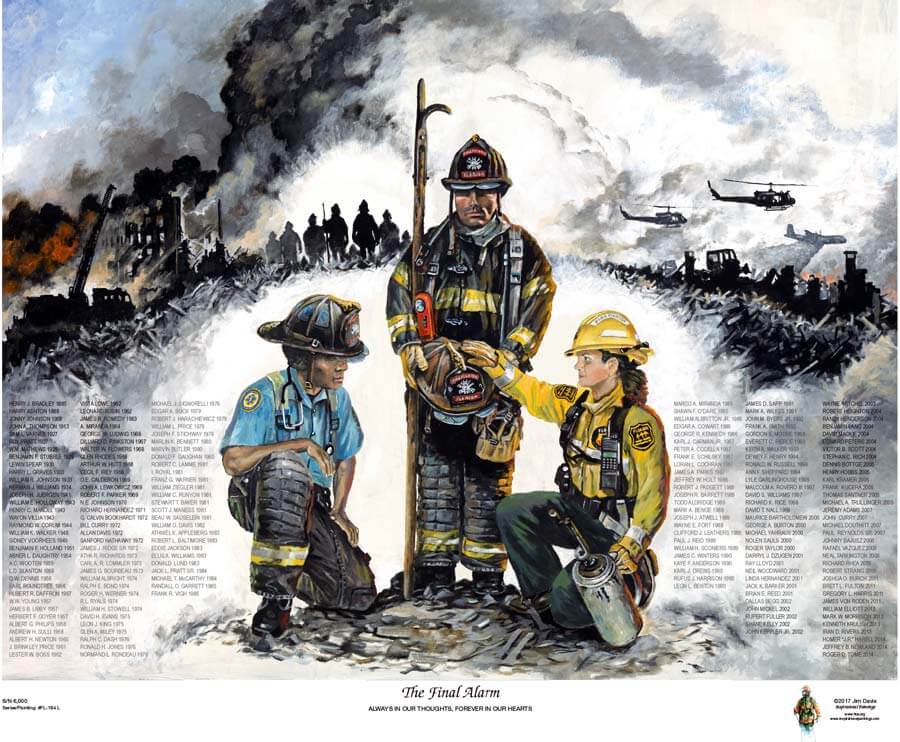 "The Final Alarm",  #FL-184L – $75
---
This print has the184 LODD Florida Firefighters, EMS, and Forestry names and dates, chronologically arranged in the background. This print shall only be used for non-profit, fund raising, promotional, charitable and memorial efforts.
Lithograph Size – Landscape w/ background
"The Final Alarm"
ALWAYS IN OUR THOUGHTS, FOREVER IN OUR HEARTS.
w20″ x h16″ w/colorfast ink
Item# FL-184 L
Available in both regular S/N and Artist Proof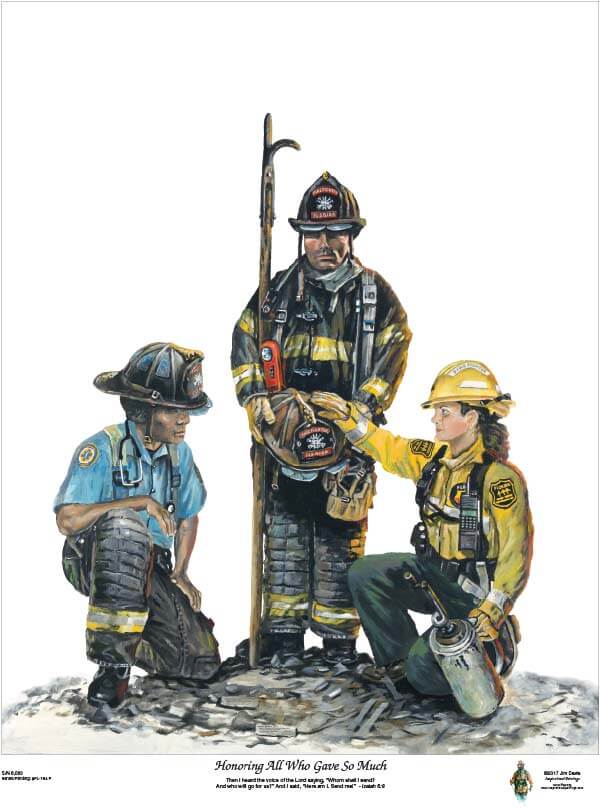 "Honoring All Who Gave So Much",  #FL-184P – $75
---
This print simply focuses on the three figures: Firefighter, EMS, and Forestry.  After June 2019, this print will be available thru the artist's web page. However, as with all the artist prints, a portion of the cost will be donated to the charitable, fund raising, and ministry work.
Lithograph – Portrait w/ no background
"Honoring All Who Gave So Much"
Then I heard the voice of the Lord saying,
" Whom shall I send? And who will go for us?"  And I said, "Here am I.  Send me!"
w16″ x h20″ w/colorfast ink
Item# FL-184 P
Available in both regular S/N and Artist Proof